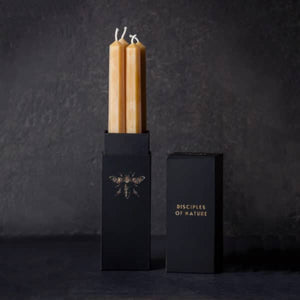 An otherworldly gathering of bees reveals the secrets of nature and carries a divine message of love. We are smitten with the new Disciples of Nature collection crafted by Chicago based Tatine, who source the deepest golden beeswax they can find. Enjoy the quiet burn, the scent of nature, and the golden flame of these gorgeous faceted tapers that are intended to be burned all evening, through long lingering dinners or captivating chapters of a good book. A return to the old world craft of candle making with pure beeswax, a natural and renewable resource.
Radiant and peaceful, beeswax was considered a sacred gift from the heavens. The golden wax colour varies depending on which flowers the bees are feeding on, as well as the pollen and nectar that is carried to the hives from different parts of the world. The sign of a high quality beeswax candle is the soft white powder called 'bloom' that appears on the surface over time. This natural process of oils crystallising on the surface indicates the candle is 100% natural beeswax with no additives. Bloom can be removed gently with a soft cloth, or you can leave it untouched for a rustic, antiquated look. Beeswax tapers will naturally drip, so please mind your surfaces!
Unscented. Each 25.4cm (10inch) taper candle burns for approximately 13 hours.